With His own Blood He Bought Her, and for Her Life He Died
The Church's One Foundation
I Lay My Sins on Jesus LSB 606
I lay my sins on Jesus, The spotless lamb of God; He bears them all and frees us From the accursed load. I bring my guilt to Jesu To Wash my crimson stains Clean in His blood most precious Till not a spot remains.
I lay my wants on Jesus; All fullness dwells in Him; He heals all my diseases; My souls He does redeem. I lay my griefs on Jesus, My burdens and my cares; He from them all releases; He all my sorrows shares.
I rest my soul on Jesus, This weary soul of mine; His right and me embraces; I on His breast recline. I love the name of Jesus, Immanuel, Christ, the Lord; Like fragrance on the breezes HIs name abroad is poured.
Text: Horatius Bonar 1808-89 Public Domain
For our sake he made him to be sin who knew no sin, so that in him we might become the righteousness of God.
2 Corinthians 5:21 ESV
"Every revelation of God is clear, whole, and ordered. In a word, it is Beautiful, True, and Good because God is himself Beauty, Truth, and Goodness. We know God as he reveals himself: through his Son, in the material things of this world, transformed by the Holy Spirit to become transparent of heavenly things. And we call things beautiful when they reveal to us their inner essence, their reality as understood in the mind of God, who knows no untruth and inspires people to act toward the Good. Any book about liturgical art and architecture therefore must be about Beauty, Truth, and Goodness because liturgical art and architecture are about a compelling revelation of God which moves us to grow in conformity to Him. Since Beauty is the compelling power of Truth, its splendor and attractiveness draw us out of ourselves to approach and investigate a beautiful thing. We can then be transformed by it. So this is also a book about Goodness, where human acts are made with moral sense, which is informed by a grace-filled reason. The result of these beautiful and good acts is joy and love, and love is willing the good of the other as other, unselfishly so. And what greater good could one wish on another than eternal salvation in the warm embrace of God? So a book about liturgical art and architecture must also be about salvation. And salvation, being perfect, is indeed beautiful. And we start all over again. Amid all of this theological language are the real, tangible objects of liturgical art and architecture, which rightly belong to the spiritual order even as they affect our earthly lives." (McNamara 1)
McNamara, Denis R. "Catholic Church Architecture and the Spirit of the Liturgy". Hillenbrand Books, 2009.
Agnus Dei
Wake, Awake, For Night is Flying!
"Wake, awake, for night is flying," The watchmen on the heights are crying; "Awake Jerusalem, arise!" Midnight hears the welcome voices And at the thrilling cry rejoices: "Oh, where are ye, ye virgins wise? The Bridegroom comes, awake! Your lamps with gladness take! Alleluia! With bridal care Yourselves prepare To meet the Bridegroom who is near."
Zion hears the watchmen singing, And all her heart with joy is springing; She wakes, she rises from her gloom. For her Lord comes down all glorious, The strong in grace, in truth victorious; Her star is risen, her light is come. Now come, Thou Blessed One, Lord Jesus, God's own Son, Hail! Hosanna! We enter all The wedding hall To eat the Supper at Thy call.
Now let all the heavens adore Thee, Let saints and angels sing before Thee With harp and cymbals clearest tone. Of one pearl each shining portal, where, joining with the choir immortal, We gather round They radiant throne. No eye has seen the light, No ear has heard the might of Thy glory; Therefore will we Eternally Sing hymns of praise and joy to Thee!
Text/Tune: Philipp Nicolai, tr. Catherine Winkworth Public Domain
A Star Shall Come Forth
Graphite on Duralar, white gold leaf frame, 18" x 35", 2015
The King Is Enthralled With Your Beauty
Pencil on bristol, 11" x 14", 2014
The church is anticipating the return of Christ, much as this hopeful young bride is awaiting her bridegroom. We as the church eagerly await our first love, the one called faithful and true in Revelations. She is dressed and ready for service, wearing garments of salvation provided for her in the washing and renewal of holy baptism. Roses adorn her dress. Her hands are folded in prayer, but her eyes are ready and alert for her one true love to come. "In quietness and trust is your strength..." (Isaiah 30:15)
Woman, Woman, Why Are You Crying
Linoleum reduction print, 7.5" x 5.75", 2014
Woman, woman… why are you crying?
Woman, woman… why dost thou weepest now?
Woman, woman… why are you crying?
Woman, woman… why dost thou weepest now?
For they have taken away my Lord,
I cannot find Him.
For they have taken away my Lord,
I cannot find Him.
Woman, woman… why are you crying?
Woman, woman… why dost thou weepest now?
Pencil on bristol, 11" x 14', 2014
Master Study - Albrecht Durer's Praying Hands
White and black charcoal pencil on blue paper, 11.5" x 7.8", 2014
The Firstborn Of All Creation
Pencil on bristol, 11" x 14", 2013
This drawing begs to ask, "Why did God come to earth as a baby to die?" He is sleeping in rest; one day He will sleep in death in a cold tomb. Christ is swaddled in cloths on the first Christmas. At His burial, He will be wrapped in fine linens. The cloths form a flower or baptismal shell around His body. Here we are reminded of our baptism into Christ's death, and that we will participate in His resurrection. Straw radiates around the cloth, imitating a crown of thorns. The wooden manger frames His tiny body like a coffin; wood that would become His cross.
Jesus came to save us from sin, death, and the devil. A small seemingly helpless baby is God revealed
Oh come, let us adore Him
Oh come, let us adore Him
Oh come, let us adore Him
Christ the Lord!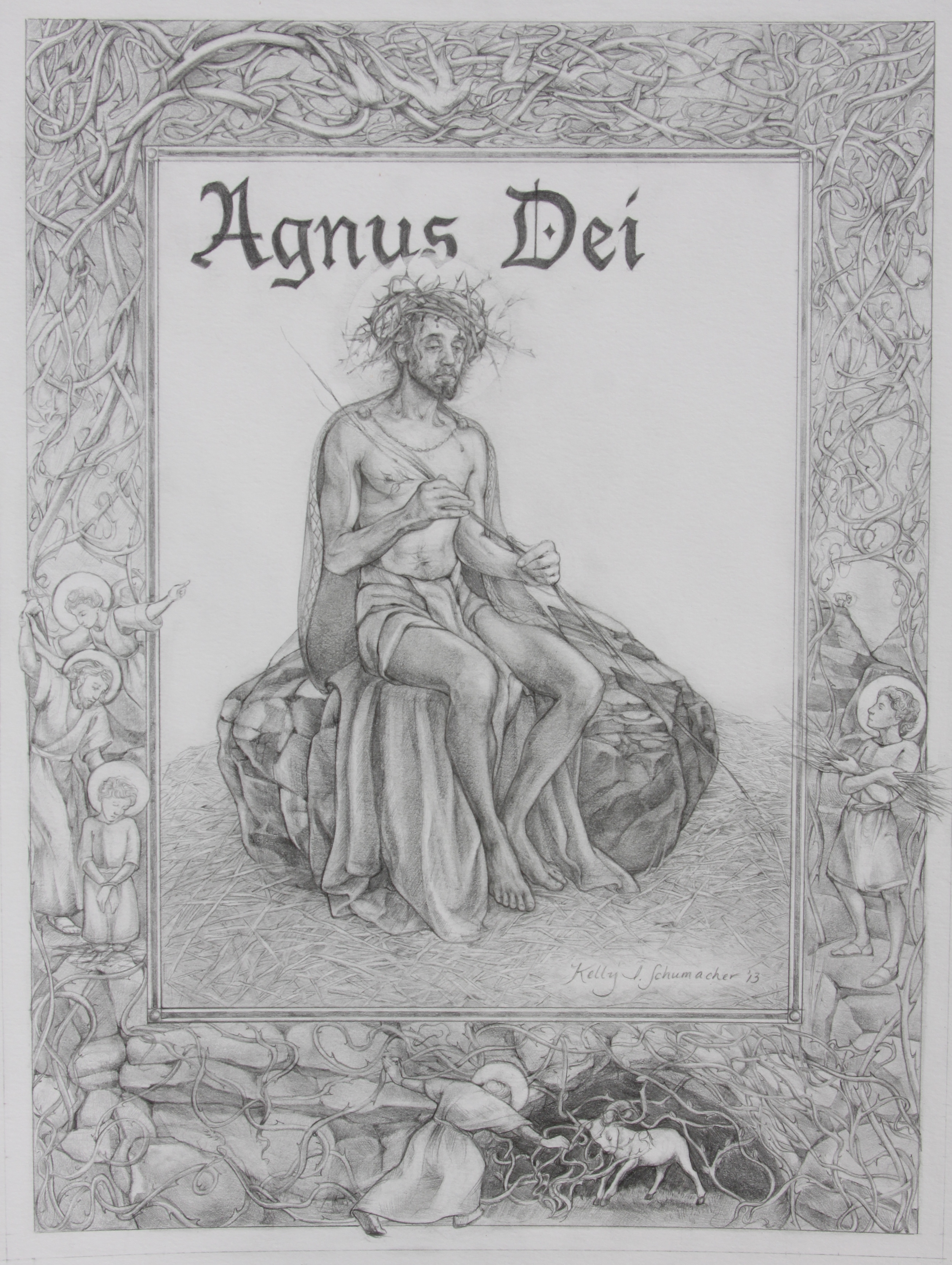 Pencil on Bristol, 11" x 14", 2013
The story of the sacrifice of Isaac parallels the passion narrative of Christ. Just as Isaac carried the wood for the offering up a mountain, so Jesus bore his cross to Golgotha. For Isaac, an angel appears to keep Abraham from sacrificing his son. Yet the Christ, bears the full punishment willingly. God provides the ram with his horns caught in thorns as the substitute offering for Isaac. In the passion story, Jesus Christ is crowned with thorns as our substitutionary atonement. He is central to understanding the narrative, placed at the center of the composition.
Jesus is the fulfillment of Psalm 118:22, "The stone that the builders rejected has become the cornerstone." The rock is Christ himself, the cornerstone. The Son of the Living God is the one the church builds upon.
Willingly All This I Suffer
Pencil on Bristol, 4.5" x 6", 2013
A rose is thought to be the most perfect of flowers. In this drawing, Jesus personifies the rose of Sharon in Song of Solomon. He is wearing a scarlet robe, its bloom-like folds circle around Him. Revealed at the center of the bloom is Christ. There is an intricate border of roses and a fleur de lis rests in each corner. This lily represents Christ's bride the church. The intricate border imitates the tiles found in medieval sanctuaries.
A Lamb Alone Bears Willingly
A lamb alone bears willingly,
Sin's crushing weight for sinners;
He carries guilt's enormity,
Dies shorn of all his honors.
He goes to slaughter, weak and faint,
Is led away without complaint
His spotless life to offer.
He bears the stripes, the wrath, the lies,
The mockery, and yet replies,
"Willingly all this I suffer."
Master Study - Christ Risen From The Tomb
Bergognone, oil on panel, c. 1490, National Gallery Washington DC.
Pencil on Bristol, 5.5 x 8.5, 2013
This image is a study of Christ in the state of resurrection. His hand gestures upward in victory, to reveal wounds in His hand and side. His gaze is in an eternal state of bliss.
Come, Ye Faithful, Raise the Strain
"Alleluia!" now we cry
to our King immortal,
who, triumphant, burst the bars
of the tomb's dark portal;
"Alleluia!" with the Son,
God the Father praising,
"Alleluia!" yet again
to the Spirit raising.
Pencil on paper, 12" x 8.625", 2013
The crisp realism brings the crown of thorns to life. Its shape is a helix. The intertwining branches serve as a visual reminder that God links Himself to man. The shadow cast creates an outline of the crown on white paper. In this crown, Christ bears the curse of Adam on His head, "thorns and thistles it shall bring forth for you;" (Genesis 3:18a). Through suffering, He is the promised Prince of Peace who reconciles us to God. He enters our world as the true King crowned in thorns, not gold; whose kingdom is humility, not glory.
What Wondrous Love is This?
When I was sinking down, sinking down, sinking down
when I was sinking down, sinking down;
when I was sinking down beneath God's righteous frown,
Christ laid aside his crown for my soul, for my soul,
Christ laid aside his crown for my soul.
Pencil on gessoed panel, 10" x 8", 2012
The unicorn tapestries at the Cloisters in New York are a series of woven images depicting the mythical narrative of the life of a unicorn. This piece draws from the richly embroidered tapestries, depicting the flora and fauna in detail. Through this detail we see the vision of creation. Smaller organic forms repeat themselves in tree and rock formations, showing how the beauty and continuity in nature testifies the existence of God over creation. Jan van Eyck, a late gothic painter, placed infinite detail and realism of high importance in His art to emphasize the vastness of creation.
The legend of the unicorn is more than a myth, it is a narrative that points to Christ. In the final tapestry, the Unicorn sits inside of a fence in a garden. He represents the risen Christ waiting in the garden for his beloved Bride. The church also waits, for Christ's return on the last day.
For The Joy Set Before Him
Pencil on Paper, 11" x 18", 2012
Christ looks to Calvary and then beyond. After he is delivered over to be scourged, he looks out, the light pours in shining hope: "who for the joy that was set before him endured the cross, despising the shame" (Hebrews 12:2). Jesus took on sin, death, and the devil, symbolized in the thorns and the marks on His back. The window symbolizes the joy of the resurrection and God reconciling all peoples to Himself. His body is draped with a robe transformed into a waterfall. He becomes the stream of living water, bringing life to man.
O Sacred Head, Now Wounded
What language shall I borrow
To thank you, dearest Friend,
for this, your dying sorrow,
your pity without end?
Lord, make me yours forever,
a loyal servant true
and let me never, never
outlive my love to you.
I Have A Baptism To Undergo
Gessoed panel, silver leaf, gold leaf, and pencil, 6" x 7.5", 2012
In the fairytale Sleeping Beauty, thorns serve as a symbol. The prince must pass through many thorns and trials to rescue and bring Briar Rose back to life. God sent thorns and thistles to draw Adam into repentance. In the Genesis account, the thorn represents the curse that Adam bore for his sin; death. For us, thorns are part of the fall; we suffer in this life. Christ is the prince who rescues us, bearing not a crown of gold but a bloody crown of thorns. Through dying and rising, He brings the church back to life.
What Wondrous Love is This?
What wondrous love is this, O my soul, Oh my soul!
What wondrous love is this, O my soul!
What wondrous love is this that caused the Lord of bliss
To bear the dreadful curse for my soul, for my soul,
To bear the dreadful curse for my soul?
He Must Become Greater, I Must Become Less
Charcoal on watercolor paper, 28" x 38", 2011
"Look to the cross, cling to the cross". I remember hearing these words many Sundays growing up. As Christians we continually come to Christ and hold fast to His saving work, whole and complete. The figure below is despairing of self, pointing to Christ as his true hope. We see only the feet.
Contrasting the void black background, two white legs shine in midair. His truth is the only truth we have to cling to in this world. "The light shines in the darkness, and the darkness has not overcome it" (John 1:5). God wants us to continually return to His cross and remain there. The cross is real, objective, something we are invited to hold to in the hard times. We can have full confidence in what He has done for us
Charcoal on watercolor paper, 28" x 9", 2011
Altarpieces, a great art form in the Middle Ages, aided in liturgical functions. They often depicted Catholic imagery or scenes from Christ's life.
This is a different interpretation of the iconography, a duality of meaning in one image. In one interpretation we see God's view of Jesus on the cross. In a second view, we see the body of Christ lying on a draped cloth atop an altar. He becomes a fragrant offering that is pleasing to God. We are drawn to the altar of Holy Communion where we receive His body and blood. The wrath of God was satisfied in Jesus Christ, the propitiation for our sins. The sight of the Crucified One is meant to bring comfort to those who are troubled over their sins.
Mixed media on panel, 36" x 48", 2009