The Apocalypse Altarpiece
"Who then can fully appreciate what this royal marriage means? Who can understand the riches of the glory of this grace? Here this rich and divine bridegroom Christ marries this poor, wicked harlot, redeems her from all her evil, and adorns her with all his goodness. Her sins cannot now destroy her, since they are laid upon Christ and swallowed up by him. And she has that righteousness of in Christ, her husband, of which she may boast as of her own and which she can confidently display alongside her sins in the face of death and hell and say, "If I have sinned, yet my Christ, in whom I believe, has not sinned, and in all his is mine and all mine is his," as the bride in the Song of Solomon (2:16) says, "My beloved is mine and I am his." This is what Paul means when he says in 1 Cor. 15 (:57), Thanks be to God, who gives us the victory through our Lord Jesus Christ," that is, the victory over sin and death, as he also says there, "The sting of death is sin, and the power of sin is the law" (1 Cor. 15:56)." (Luther 15)
Luther, Martin. "Christian Liberty". Fortress Press, Philadelphia, PA, print.
The Bride of Christ at the Foot of the Cross
Oil on Canvas, 36" x 84", 2014
I always found the image of Mary Magdalene clinging to the foot of the cross compelling. In this version, the image of Mary has been replaced with the Bride of Christ. She weeps at the foot of the cross, with sorrow for her sin, but with joy for her Savior who bore them. The hymn, "The Church's One Foundation" LSB 289 is a great source of inspiration for the creation of this piece.
In this painting, we see the beautiful love story that exists between God and the Church. Her sin has separated her from the Lord, but He pursues her. Jesus Christ woos His bride with His word and pays for her debt with His life. From His side comes blood and water. The water transforms into the bride's veil and gown while the blood is collected into a communion cup. Jesus is paying the bride's price to redeem us from sin and death. In the Garden of Eden, Eve is formed out of Adam's rib. In the same way we are the Bride formed from Christ's side. Christ and His Church gaze at one another, face to face.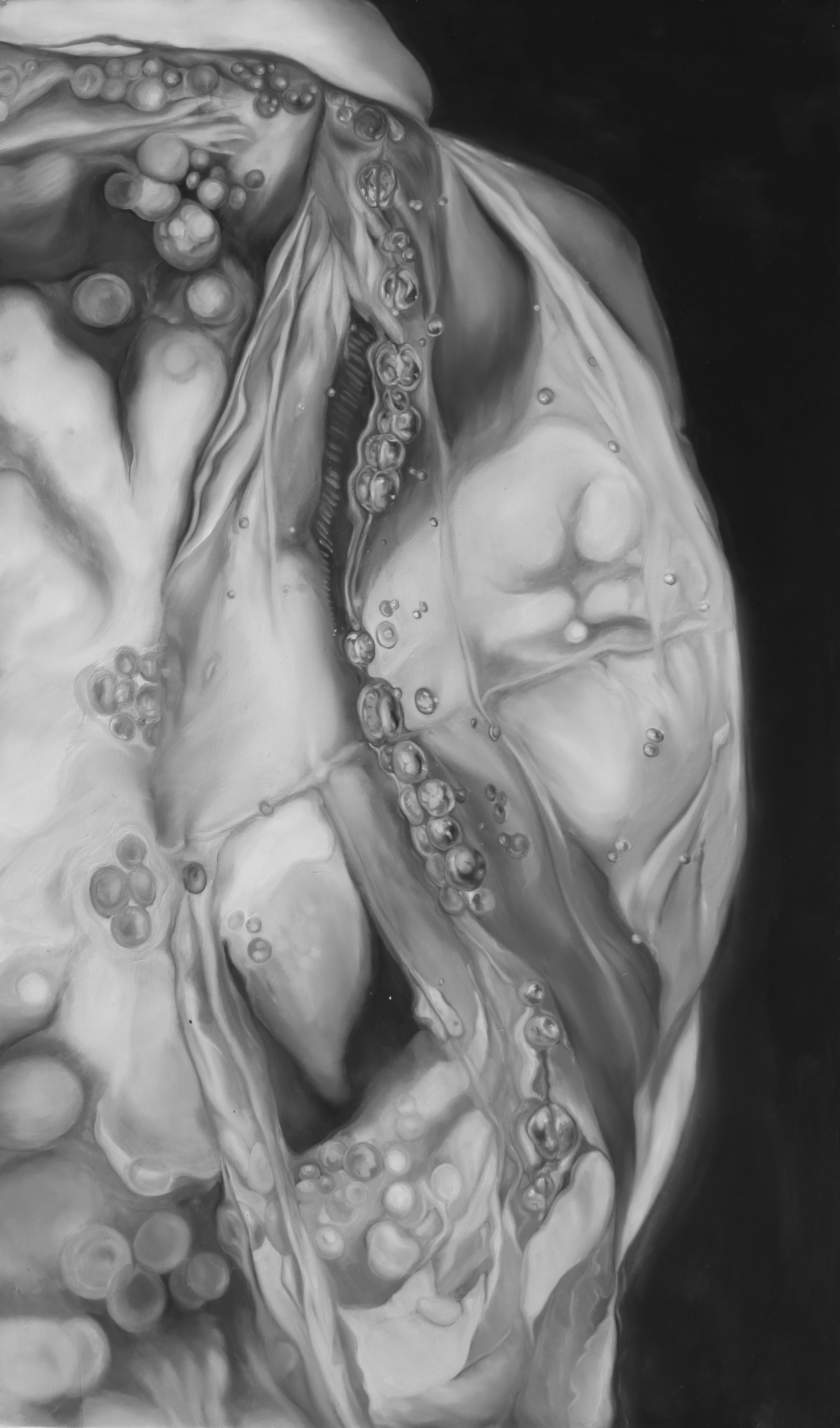 Oil and Gold Leaf on Panel, 54" x 20" x 1", 2013